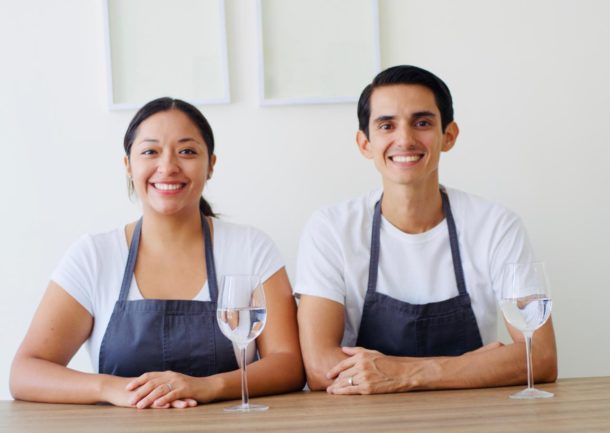 Today we chatted with Isabel Perez, who we recently welcomed to our team. However, Isa is not a Galapagos guide or dive master as you might expect – she is a professional chef.
Isa and her husband Andrés joined Academy Bay Diving as extra special hosts, giving ceviche cooking classes to our passengers. With our new Diving, bites and escapades itinerary, we offer our guests the chance to experience the Galapagos culture and community. This exclusive package includes a Ceviche cooking (and tasting!) class with the Galapagos Chefs.
Ceviche is a delicious seafood dish found across Ecuador's coastal region, and the Galapagos is no different. This fresh, flavorful dish is the perfect seafood treat for a hot summer day.
Served in most Galapagos restaurants, Ceviche combines fresh seafood with citrus fruits and is typically served with fried plantain chips, popcorn, or rice.
The origins of ceviche…
The technique of macerating raw fish and meat in vinegar, citrus, and spices (escabeche) was brought to the Americas from Spain and is linked to the Muslim heritage in Spanish cuisine. However, a dish resembling ceviche is thought to have been present in South America for around 2,000 years and comes from Incan culture.  There is some debate on whether it originally came from Peru or Ecuador.
Isa has more than ten years of experience as a chef, has worked internationally, and has provided culinary experiences for some time.
Here she tells us more about her gastronomy journey and talks about the Ecuadorian favorite, ceviche.
The "Galapagos Chefs" and preparing ceviche
You are one half of the "Galapagos Chefs" along with your husband, Andrés Orlando. Tell us about yourselves…
My name is Isa, and I was raised in the Manabi province on the pacific coast of Ecuador. I grew up surrounded by nature, next to the ocean. My husband Andrés was born in the Galapagos, on San Cristobal Island, and lived his childhood here between the mangroves and volcanic rock.
We each had a love for gastronomy and met at the culinary institute in Guayaquil. We have worked together on projects for some. Our passion for food is what motivates us as chefs.
What made you become a chef?
For me, food is more than just something you eat. I love the connection between nature, food and family, and everything that happens around the table. When you cook, you put a lot of heart into it, and then sharing that food is like sharing love.
Was food a large part of your culture and environment growing up?
Yes! In my family, we used to grow our food. And cooking with my grandma, cousins, and uncles was very special and unique.
What is your favorite Ecuadorian dish to eat and cook? Are they the same dish or different?
Honestly, ceviche is my favorite! I love how it can be so simple to make it, but other recipes can be very complex, I never get enough of it, and I´m always creating new recipes with locally-sourced produce.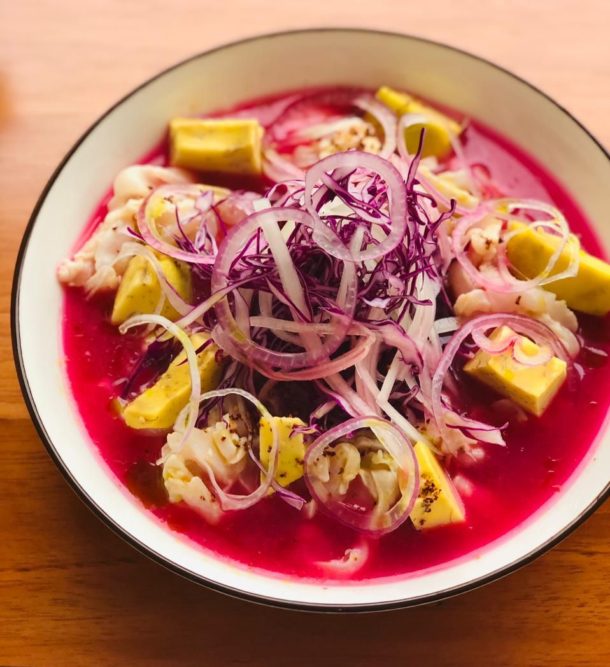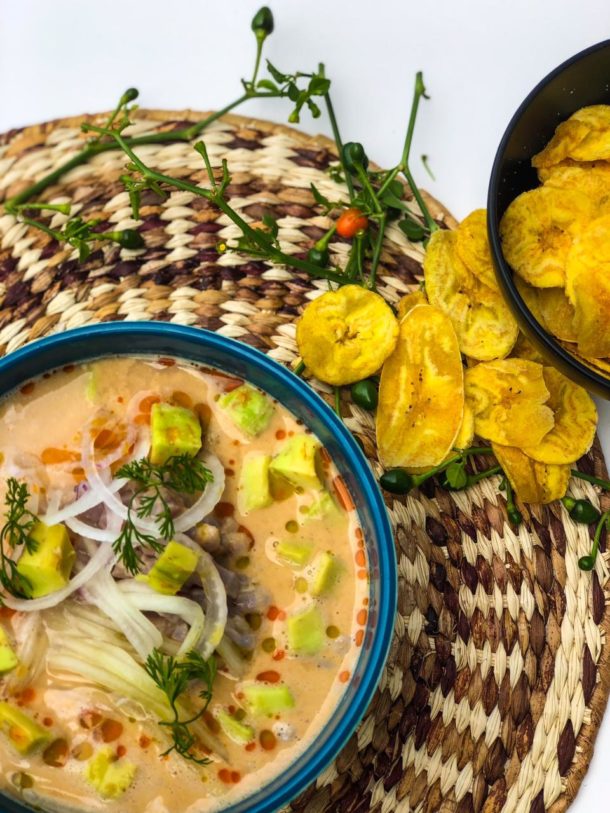 Isa enjoys experimenting and creating new Ceviche recipes
You have traveled around the world and worked in places like Napa Valley, California, and London. What was your favorite cuisine from another country? How do you think Ecuadorian food compares to international gastronomy?
Napa Valley was a favorite of both my husband and me. We loved the wineries and all the fresh and organic produce available. We have learned about many different cuisines worldwide. Still, I must say that Ecuadorian is different with its fresh and unique flavors and wins for the variety of organic fruits that we have!
I hear traditional dishes can differ across the different regions of Ecuador, such as the coast versus the mountainous regions. Is that true? How do they differ?
That is true. As you might expect, seafood is eaten in the coastal regions along with stews, but in the highlands, the meals are based on root vegetables, corn, and grains.
The food varies in each region depending on the available produce. Luckily Ecuador has a lot of great quality fresh crops throughout the country.
With the new 'Diving, Bites, and Expeditions' itinerary with Academy Bay Diving, guests can take a Ceviche class with you and Andrés. What can one expect in the class?
The ceviche is a traditional recipe based on fish, fresh lemon, and fresh vegetables. This fun workshop will prepare two types of our signature ceviche. The class will take an hour or more, during which we will explain the process and techniques. Then we will enjoy a ceviche tasting.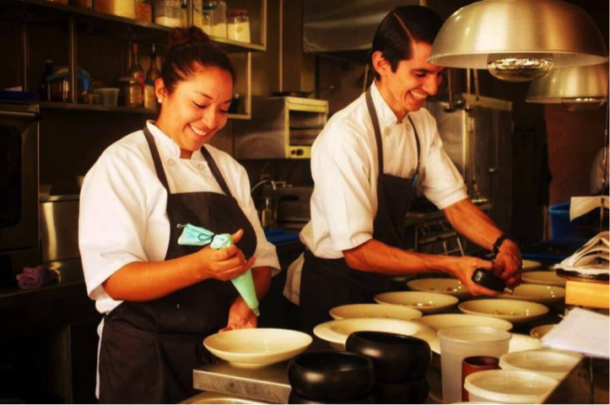 Isabel Perez and Andrés Orlando became the "Galapagos Chefs" after people started calling them by that name at Art Week in London.
The master class is a fun experience where you will learn about ceviche and how to prepare it. You'll also get some tips using fresh and locally-sourced fish and other produce from the islands.
I'd share all my secrets here, but you'll have to come to the class for that!
What makes a good ceviche?
Fresh ingredients and the correct techniques – there is an art to it. Choosing good quality fish and seafood is the essential part.
For people visiting the Galapagos for the first time, what other food and drink do you recommend they try?
Fresh lobster! The fact that it's locally and sustainably caught makes it all the better!
More artisanal drinks are being created in bars and restaurants here, and I recommend trying a fresh garden herb cocktail or two.
* * *
If you are unfamiliar with ceviche or its cooking process, you might be interested to learn that no heat or classic cooking methods are involved.
Ceviche is, in fact, "cooked" with a chemical process that occurs when citrus acid comes into contact with the fish. It is similar to when fish is cooked, and the flesh becomes opaque and firm!
Come and learn for yourself and contact us for more information on this fun and unique Galapagos experience!
Written by: Charli Pocock