March was quite the month for us here at Academy Bay Diving! We've seen some amazing Galapagos marine life, helped the Galapagos National Park with a subtidal clean up and tourism is returning to the Islands! Plus, we received some controversial news. Here's our month in review…
Keep our sea, plastic free!
23 years ago, on March 18 1998, the Galapagos Marine Reserve was created, one of the most important protected areas in the world! As we are scuba diving in the Galapagos Islands every day, of course we want to help protect and preserve it and help where we can. To mark the 23rd anniversary of the Marine Reserve we joined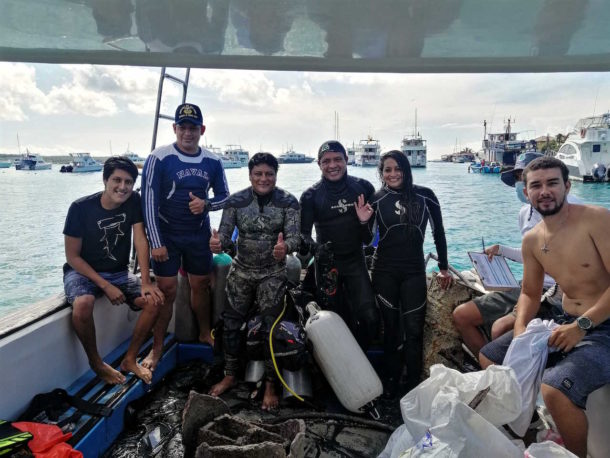 forces with the National Park, Conservation International and other Galapagos tour operators in a subtidal clean up. The Academy Bay Diving team and friends dived the coastal waters filling sacks of rubbish that had drifted into the harbour in Santa Cruz Island, known as Academy Bay. We collected all sorts of trash, nets, ropes, buoys and of course, the enemy of the sea, plastic. Whilst we were diving in Santa Cruz Island, other participants were cleaning and diving Naufragio Bay in San Cristóbal, Villamil Bay in Isabela; and the Itabaca Canal, between Santa Cruz and Baltra. Together with around 50 participants we removed 2,239kg from the ocean!
Delicious Sharks!
No, not for us of course! However, we were amazed to witness a feeding frenzy on a recent dive to North Seymour.  The diving around North Seymour is always amazing, however this day we saw something less common and were given an extra special treat by witnessing a pod of Orca whales eating a hammerhead shark. Incredible. Check out the video below. The scuba diving in the Galapagos really is spectacular!
Keeping to the hammerhead theme, though this time live ones, March has treated us well, and in particular, around the dive site of Santa Fe. This island, which is a regular Galapagos dive site for us here at Academy Bay Diving, is a beautiful volcanic island, about a 45-minute boat ride from Santa Cruz Island. When we went there last month, we had the most amazing diving conditions with great visibility.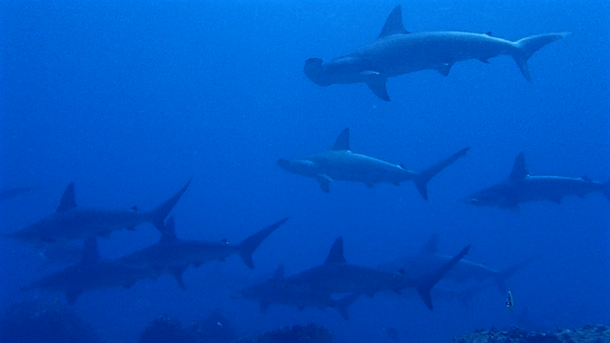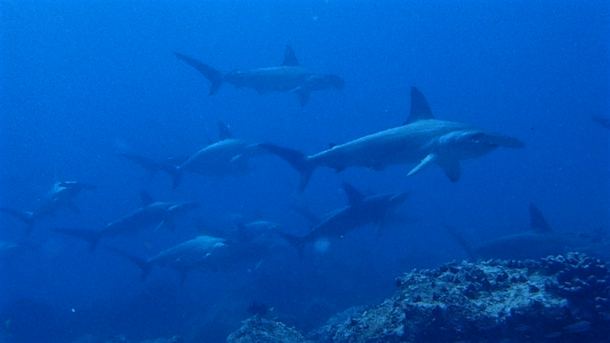 Although many don't count this as the most active of Galapagos dive sites in terms of marine life, our experienced dive guides know where to look and there is marine life everywhere!Who knows what will see there next time, we head there every Tuesday! Read more about diving at Santa Fe and our other dive sites here.
Not your usual Galapagos Souvenirs
Did you know that 97% of the Galapagos Islands are classed as National Park? With around 7,970 square kilometres and a large number of plant and animal species that do not exist anywhere else, it is no surprise that it is well protected. Both the Galapagos tour operators and the tourists that come to the islands have to follow many regulations in order to help preserve the archipelago. Also, in place to maintain the paradise that we know and love, are the luggage checks at airports and boat docks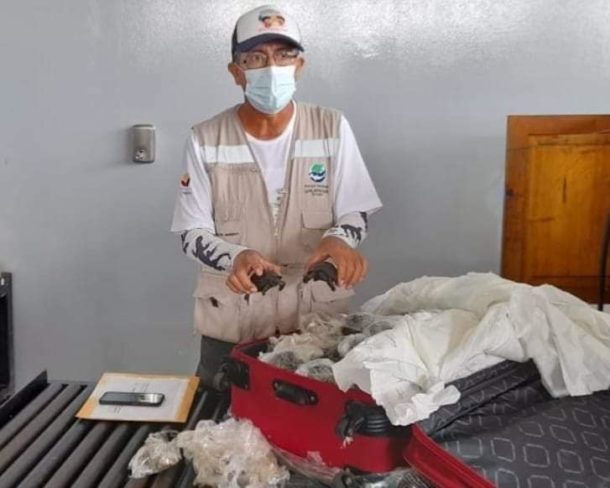 which ensure there are no contaminated or restricted goods entering the islands. Thank goodness these checks are in place as last month the local and conservation communities were saddened to hear that someone did not value the precious Galapagos wildlife like so many of us do…On a routine cargo check at Baltra airport, on Santa Cruz island, the staff noticed irregularities in suitcases that were bound for Guayaquil, declared as containing souvenirs. When they were opened for an inspection the officials were shocked to discover they were full of 185 Galapagos tortoise hatchlings, all individually wrapped in plastic. Unfortunately, 10 did not survive and a further 5 tortoises died at a later date. The remaining 170 tortoises were returned to a safe space on Santa Cruz Island. One of the biggest threats to Galápagos tortoises is illegal trading for animal collectors and exotic pet markets with experts saying that juveniles like these can sell for more than $5,000usd per hatchling. The suspect? None other than a Police Officer, Nixon Alejandro, who was arrested the following day. The judge issued a preventive detention order against him after the request of the State Attorney General's office, for an alleged crime against flora and fauna. A crime which is punishable by 3 years in prison.
Tourism in the Galapagos Islands is back!
With over 150,000 tourists visiting each year, the Galapagos Islands have become a very attractive holiday and diving destination. But in March last year, like many countries in the world, entry to the Galapagos Islands was stopped, with the borders closed, as the pandemic hit. Even inter-island travel was ceased.
Now it is a different story, and we are very happy to report that Galapagos is once again open to tourists and we are finally seeing some movement! It is growing each month, which is great for all the community here who rely heavily on tourism. Once again, we are enjoying going out on our daily dive tours to the best Galapagos dive sites. Cruises and liveaboards are sailing out as before and tourists are enjoying the unique flora and fauna that the Galapagos islands have to offer.
We welcome you with open arms (from a distance of course), all you need to do to enter the Galapagos is provide a negative PCR COVID-19 test taken within 3 days before entering the islands: you can see up to date requirements here.
As a Galapagos tour operator we can help provide you with the required Salvoconducto, contact us here.
Whilst there is COVID in the Galapagos Islands, we have very few cases and everything is open. Wear your mask, keep a distance and avoid large gatherings is what we adhere to. We are excited that Galapagos is actually the first province in Ecuador to finish phase 1 of the COVID-19 vaccinations with 4500 people having received their first dose of the vaccination! We're getting safer by the day and we hope you will come join us soon!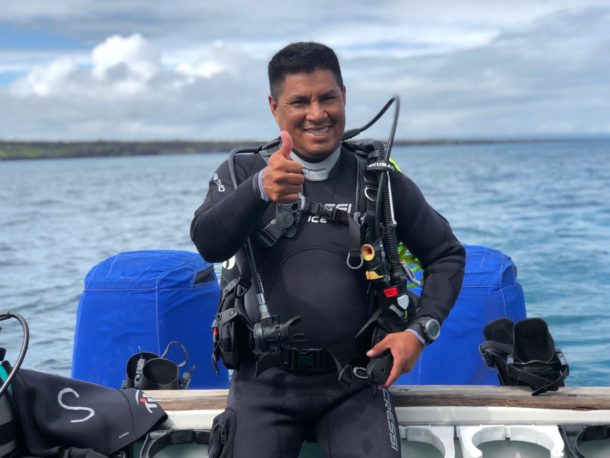 Written by Charli Pocock