Scuba diving in the Galapagos is a bucket list item for my divers. With an abundance of marine life, beauty both above and below the water, the largest biomass of sharks in the world, an offering of drift dives, deep dives and reef dives, it is easy to understand why! But what exactly does a day of scuba diving look like?
Gordon Rocks is a popular dive site known for its stronger currents and a good chance to see bigger life like hammerhead sharks and mola molas can be found there in the colder water season (July-October). Suitable for intermediate divers and beyond, this dive site is accessible on a days dive trip from Santa Cruz island and I headed there last week.
I confirmed my place with Alice of Academy Bay, arranged to visit the dive store later that afternoon to try on equipment and she sent me a link for the diving waiver to complete that day. I was pleasantly surprised to find that the link led me to an "Online check in" where I was guided smoothly through the process, gave my information, signed a liability release and stated my food preferences for the lunch that would be served onboard. It was all incredibly clear and easy, I don't know why every dive shop doesn't do this. It is perfect for divers that want to organize a trip but have a busy schedule and aren't able to visit the dive shop at the time.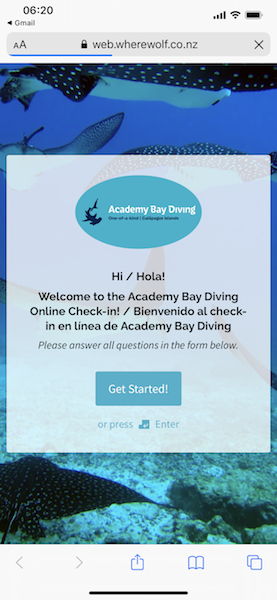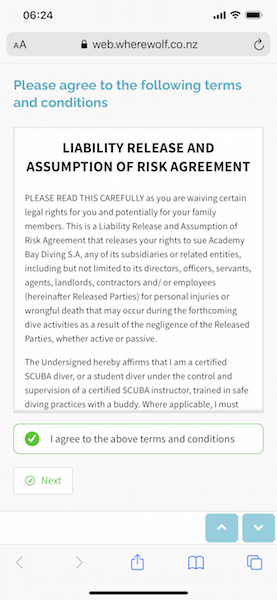 As I don't have my own dive gear aside from a computer, I needed to borrow it all, which is included in the day's dive package. I went to Academy Bay the afternoon prior to the dive where I found the owners, Alice and Hugo, working and ready to help me. First Alice helped me select a 5mm wetsuit which I was able to try on properly, behind a privacy screen. There's nothing less glamorous than wriggling into a wetsuit! They have a good range of equipment by Scuba Pro, Cressi and Tilosin in sizes XS to 4XL. My wetsuit was a good quality scuba pro long suit that fit fine and I was also offered the option of a 7mm suit which is hard to come by here and perfect for the cooler waters or those more sensitive to the cold. I decided to decline and hoped that I wouldn't later regret the decision. I then tried on and selected my BCD and boots and Alice told me that my equipment was number 3, as each diver has a number to keep the kit organized. So I was all set, ready and excited for the dive the next morning.
Day of the Dive
I arrived at Academy Bay at the stated time of 7:15am to find everyone already there and ready, including the taxi which we all jumped into and headed to the Itabaca Canal, about 45 minutes away. Because Gordon Rocks is a dive site North West of Santa Cruz, the boats sail from the north of the island, Itabaca Canal, which is also the port where the ferries go to and from Baltra island for the airport.
Arriving at the dock and seeing the sun shine on the crystal clear waters we were all excited and raring to go. We found the boat, Pacific Seahorse, and crew ready for us with our dive gear already assembled and secured to the boat. We were welcomed by Byron, our guide who introduced us to the crew, Kevin the deckhand and the captain Mauricio. All in excellent English, Bryon explained that we had towels, water and tea onboard, explained the rules of the boat and anything we might need to know.
The boat was wonderful, in top condition, clean, lots of space to sit and enjoy the views as we sailed to Gordon Rocks. I've dived this site many times before but I was amazed even before we had even entered the water; it usually takes 45 minutes to get there but we arrived in around 25 minutes! I couldn't believe it. Academy Bay recently upgraded the boat and added a third engine so it's a faster, smoother ride. Plus this makes it a little more ecological – using less fuel with lower revolutions for the 3 engines!
Byron had carefully sketched a map of the dive site onto a white board and took us through a clear and informative briefing, going through the navigation, hand signs for animals and answered any questions. We moved to the back of the boat to kit up and get started. Everything was done for us. Everything! Each one of us was looked after well and helped into our weight belts and BCDs and prepped for our entry. As there were just four of us, we all went in at the same time with a back roll entry, briefly meeting at the surface before making our descent.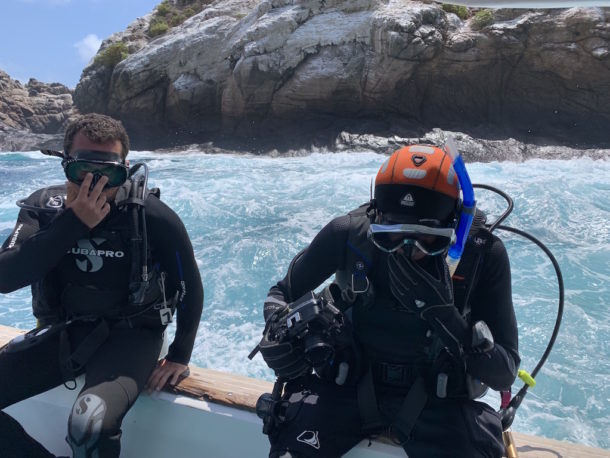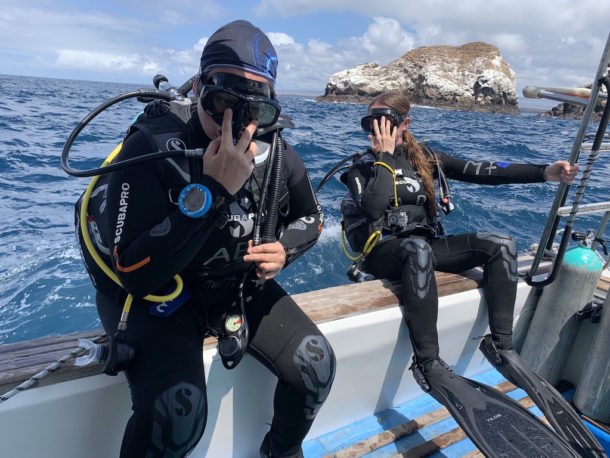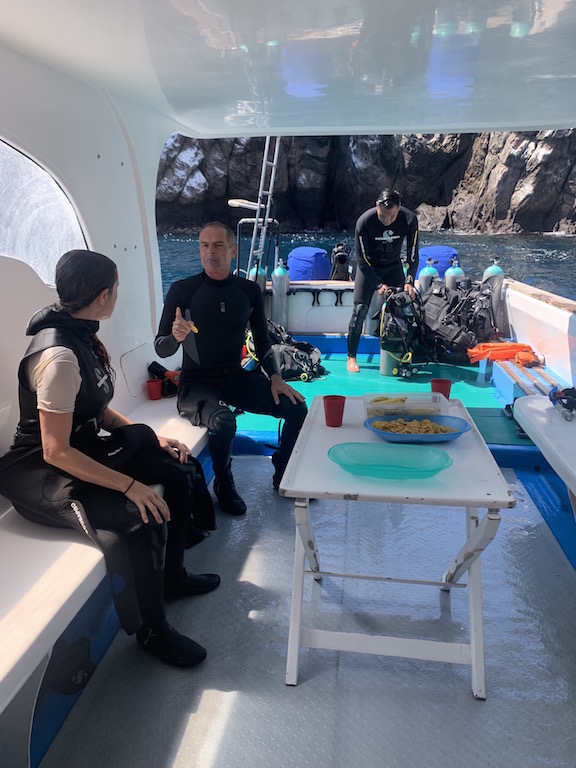 We safely descended and enjoyed our first dive, seeing eagle rays, mobula rays, a playful and curious sea lion, turtles, a large moray eel and a group of sleeping white tip sharks which my buddy affectionately named a "cuddle puddle"! Everyone was comfortable thanks to the guide and quality equipment. Even each regulator had a dive computer on it, which is fantastic for every divers safety. The water was not uncomfortable at 23 degrees and we were guided at an easy and gentle pace by Byron, who kept the group together and was aware of us all and had good underwater communication – yes, that's a thing! There was a newer diver in our group but Byron was conscious of this and shared his air with him at one point so we could all carry on and get a good 45+ minute dive. Once finished we lined up to side of the boat holding on to the line as Byron removed our gear in the water and passed it up to Kevin on the boat who welcomed us back with tea and a table of snacks of chifles (plantain chips) and bananas.
After our decompression rest we were given another briefing and returned to the same dive spot with a slightly different navigation route. Another enjoyable dive that went well for all of us and a group of ten graceful spotted eagle rays graced us with their presence. Unfortunately no hammerhead viewings for us this time but you can't have it all! As we made it back to the canal we were served a delicious lunch on board of fresh salad, rice and beef patties for the meat eaters and omelette for the vegetarians
All in all it was a wonderful day and thanks to the fast boat we were even back by 2pm! As the guides generally dive with cameras too, photos and videos are captured and available at the end of the day at no extra cost! You just need to take a USB or SD card to the dive shop.
Here's what a couple of the others from that day had to say:
"The Gordon's rock dive was my third dive with academy bay, having done mosquera/ Seymour, and Santa Fe in the two days before. I had arranged and organized my dives with them before I came to the Galapagos and was happy with the service and dives. The guides were great and adjusted to the level and desires of of the group. Would highly recommend using them if you plan on driving in Santa Cruz!" – Hady M, New York
 "Gordon Rocks was a great sight to see an array of the large marine life that the Galapagos dive experience can offer – from rays to sharks to turtles to sea lions, and even a humphead wrasse!
While there are times on the dive that you are just looking at blue on all sides dotted by small fish, just wait for the sound of your dive master's shaker and you know you're in for something good. Also – lunch was delicious!" – Maria, New York
Written by: Charli Pocock