The oceans are calling you! It is so great to see the Galapagos coming back to life and last month we had our busiest month since the beginning of the pandemic! We had some fantastic groups enjoying fun dives together and recently we have been lucky to sight a number of Manta Rays so we wanted to shine the light this month on these fabulous creatures! Plus we introduced a few families to the joy of making bubbles with our introductory dives and share about this experience with you.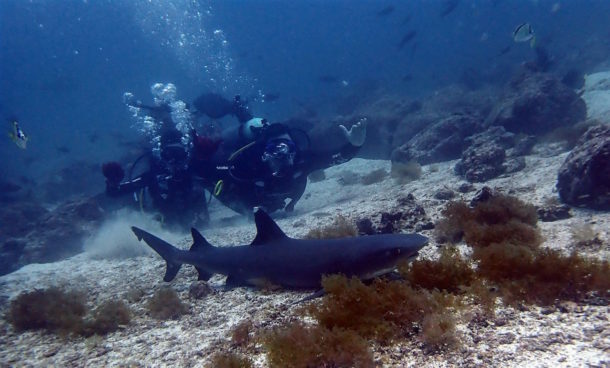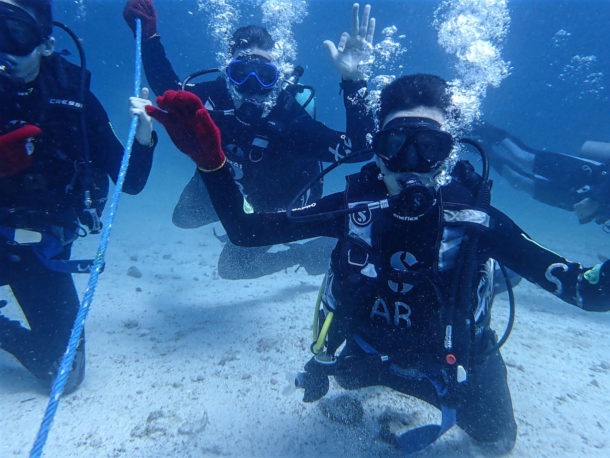 Also known as a try dive or discovery dive, introductory dives are an amazing experience. A lot of families who come out here want to try, and why not? You can do this in a safe and secure environment and go home with a great memory, photos and, who knows, maybe even a new hobby! Introductory dives are for people without diver training or certification and allows them to experience scuba diving under the guidance of a recreational diving instructor. You will start by learning a bit about the theory behind scuba diving and the instructor will also teach you some skills and hand signals so you can communicate underwater.
Then we head to the water for the fun part! In shallow and calm waters you will first practice the skills you just learned in shallow waters and once comfortable and ready we will then start swimming down to a maximum of 12 meters and welcome you to the underwater world! To join all you need is to be over 14 years old and a comfortable swimmer. Perfect right? Ready to come and make bubbles, send us a message now!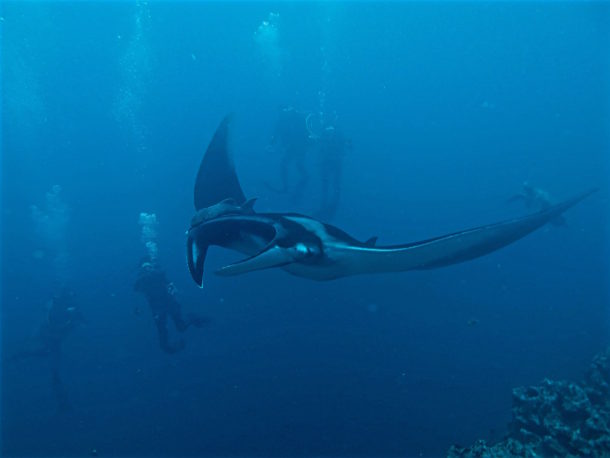 The prolific marine life of Galapagos has impressed visitors to the islands for centuries. Gaze over the ocean and something is bound to catch your attention and give you a glimpse into the spectacular world that awaits divers and snorkelers below the surface. Known for marine mega-fauna divers can swim alongside sea lions, sharks, rays, turtles, dolphins and even whales.
Are you a manta fan? If so, now is the time to visit! It's the giant manta season on continental Ecuador at the moment, with the best spots being around Puerto Lopez and Ayange. Why not make a stop on the mainland then head out to see us in the Galapagos? We can even help organise this for you!
Rays are closely related to sharks, with a skeleton formed of cartilage rather than bone. Like sharks, rays can detect electrical currents from other animals when they move. This helps them to find prey and avoid predators. Rays are often a top highlight for snorkelers and divers at the Galapagos islands. The protected Galapagos marine reserve is home to a great diversity of ray species. There are more than just Manta Rays to see. Read on for everything you need to know about Galapagos rays.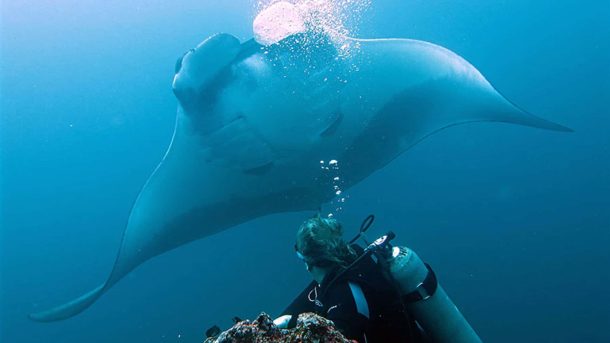 Pacific Manta Ray
Manta rays—highly intelligent and highly threatened—are the largest rays in the world and the pacific manta ray is the largest ray in the Galapagos. Recently we have had a few sightings in Beagle and Daphne dive sites (we head there on Fridays) which never fails to amaze us as they gracefully glide past us completely unnerved. Manta rays have two horn-shaped fins protruding from the front of their heads, which has also given them the nickname "devil fish." The Pacific Manta Ray measures 5-7 metres across and can weigh up to a hefy 1.3 tonnes! They feed by unfurling their fins and using them to funnel plankton, little fish and crustaceans into their mouths. Juveniles hide from predators under sand until they are hold enough to migrate into the water safe to live as adults. The best thing about them? They can be seen leaping dramatically out of the ocean!
Whilst more commonly sighted off Gordon Rocks, Cousins Rock and North Seymour the diving in Galapagos is never predictable and they majestic creatures can be seen at different sites too.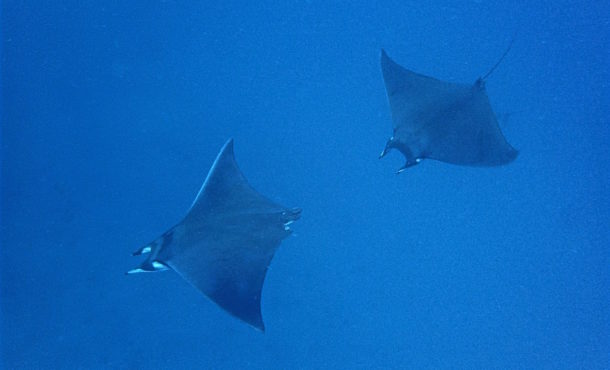 Spinetail Mobula Ray
Smaller than the giant manta, when sighted it is often thought to be a mini manta but is technically a mobula ray which is similar in color and form but with a more con shaped mouth. The spinetail mobula grows to up to 5 meters.
My personal favorite! This beautiful ray have a pronounced head with a snout and can be identified by its dark dorsal surface covered in white spots or rings which can be used as natural "tags" by scientists. They grow to at least 2.3meters wide and the Galapagos is one of the best places in the world to see these creatures and can be found near sand flats where they burrow for clams, conches, octopus, snails and marine worms which they crush with their powerful jaws.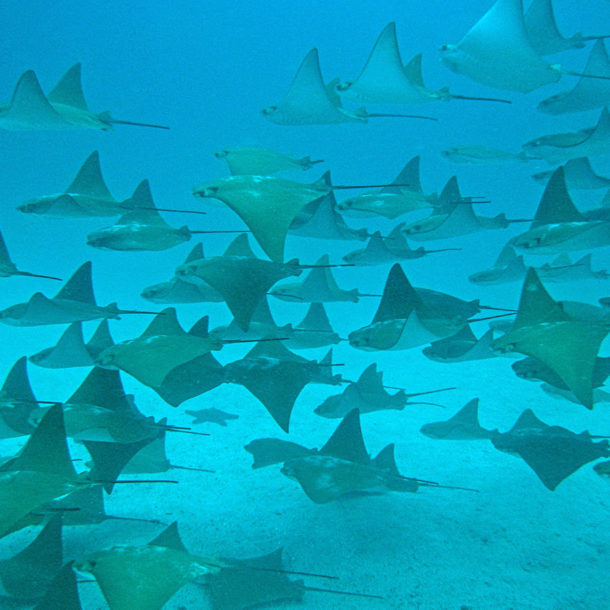 Golden Rays
A common sighting even off the pier here on Santa Cruz, Golden Rays are widespread across the islands. These dull yellow or mustard coloured rays are smaller at around 1 meter in width but can be quite the sight as they are most commonly found swimming in large schools.
Galapagos underwater is even more amazing and varied than on land; there is less endemism than on land, but there is a huge variety of species of both tropical and temperate families. All underwater species are protected and should not be approached closely or disturbed. Come with us to join this stunning underwater world and marvel in all it has to offer!
Written by Charli Pocock