Which island in the Galapagos is the best to visit?
With 13 major islands and 7 smaller islands making up the Galapagos archipelago, you might be wondering which island is the best to visit. As locals who live on Santa Cruz Island, we love to share our expertise to help visitors enjoy the best Galapagos vacation possible. If you're coming for Galapagos Diving trips or courses, take a look at all our offerings to get started!
Hoping to see it all during your trip? Check out our Galapagos Islands Tour Packages to choose the best combination of islands and activities for you.
Whatever your plans include, they should include these top Galapagos islands on your visit. We look forward to seeing you here in our exceptional part of the world!
Start on Santa Cruz Island in the Galapagos
The second-largest and most densely populated of the Galapagos Islands, Santa Cruz is also our home island here at Academy Bay Diving. We live in the heart of all the action here in the archipelago!
Many visitors will start and end their Galapagos trips on Santa Cruz. The Charles Darwin Research Station is here, and many flights arrive at Baltra Airport, which is accessed via a 5-minute ferry from Santa Cruz.
There are so many excellent day trips you can take from Santa Cruz, making it an ideal hub for your land based Galapagos vacation
Visit Isla Isabela for Diverse Wildlife
Isabela is known for its wide variety of wildlife. As the largest of the Galapagos Islands, you can see everything from the iconic giant tortoises to reef sharks, flightless cormorants, penguins, boobies, and more. This is also an active volcanic island, offering interesting geological spots to explore, too.
Visit Bartolomé Island for the Iconic Galapagos Vista
Bartolome is one of the younger islands in the Galapagos archipelago. A visit to this island yields beautiful views and vistas, with its extinct volcano and stunning variety of colorful landscapes. It's worth the steep climb to Cerro Bartolomé for the iconic view across this wild terrain. And don't skip the green turtle nesting site on the southern stretch of beach, nor the penguins at Pinnacle Rock on the north side of this tiny island!
See the Colors of Isla Rábida in the Galapagos
Isla Rábida is famous for its high iron oxide content, which creates its mesmerizing red sand beach. The sea lions seem to be particularly fond of this spot, lounging across the sand in large numbers! But that's not the only color on this island. Head in from the coast and you'll spot bright pink flamingos or hop into a panga to explore the coastal mangroves to try to spot mating green turtles.
Santa Fe Island is Perfect for Day Trips
Situated near Santa Cruz Island, Santa Fe is a popular day trip destination. You're likely to spot sea lions, marine iguanas, blue footed boobies, and frigates. There is also excellent snorkeling around Santa Fe! We're huge fans of the diving here, too.
 Explore Española for the Birdlife
Española boasts some dramatic views and its position as the most southerly of the Galapagos means it's less frequently visited, too. Expect high coastal cliffs from which the waved albatross takes off. Or enjoy the white sand beaches where sea lions lounge aplenty. This island is only visited by cruises since it's too far from the hubs for day trips.
Head to Isla Floreana for Snorkeling
Located near Santa Cruz Island is Isla Floreana, the smallest and least populated of the inhabited islands in the Galapagos. This island is known for its colorful birdlife from pink flamingos to blue-footed boobies to finches and more. You can also visit Post Office Bay, from which you can send a postcard directly from our archipelago!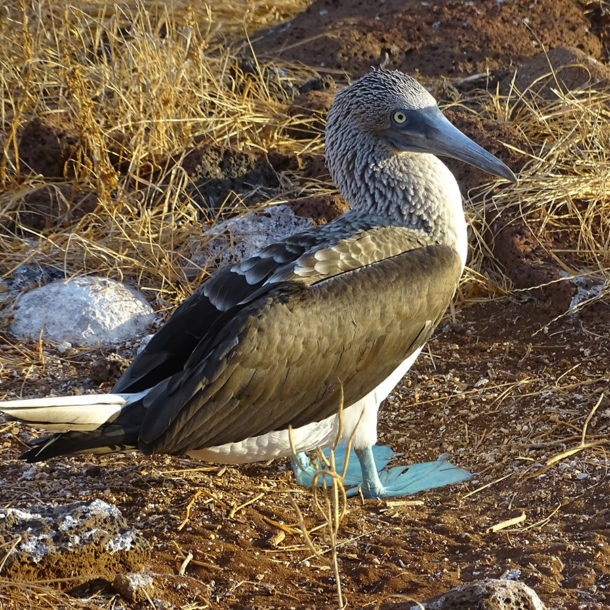 But the real show-stopper at Floreana is snorkeling around Devil's Crown, a lagoon with some of the best snorkeling in the whole region. You might see white tip reef sharks, rays of all kinds, green turtles, and penguins. You'll surely see plenty of colorful reef fish and you might even get lucky and see a harmless hammerhead shark!
Find Isla Fernandina in the Western Galapagos
Typically only visited during a Galapagos cruise, Fernandina is the westernmost of the Galapagos Islands. There, you're likely to spot the flightless cormorants, plenty of penguins, and tons of land iguanas. As a western island, Floreana is not visited on day trips; it is only visited on cruises.
Set Out for North Seymour for Seabirds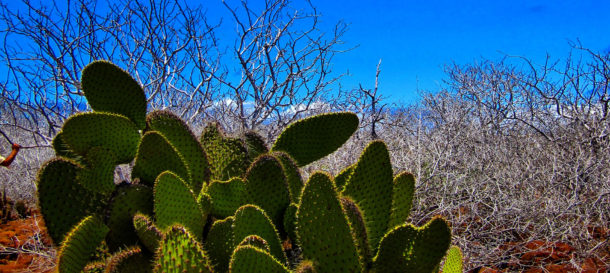 North Seymour Island is a tiny island just north of Baltra (sometimes called South Seymour). It is known for having one of the largest and most active seabird breeding colonies in the Galapagos. As a very dry island, this is also where you'll spot land iguanas seeking out succulent flowers.
So, what do you think? Which is the best island in the Galapagos to visit? We'd venture to say you can't pick just one! With such mind-boggling diversity and awe-inspiring landscapes, you have to visit several islands during your Galapagos trip. Keen to get started? Check out our Galapagos Diving Packages to blow some bubbles with us or our Galapagos Islands Tour Packages if you're staying above water.