The Best dive sites in Galapagos
daily tours – land based diving
Everyone knows about the dive sites around the northern islands of Wolf and Darwin. They are amazing, there is an abundance of marine life, but you also need to have  more than 100 dives to go there and you need to pay a fortune for an 8 day trip.
Well I am here to tell you that you don't need to go to Wolf and Darwin to have a truly breathtaking dive experience in the Galapagos islands. There are amazing dive sites around the central islands that you can reach in 45 minutes – 2 hours. Let us take you on a fast boat, have a delicious lunch, do 2 dives with time to snorkel in the middle, then be back in town with time to explore local beaches and hit one of the local restaurants for dinner and drinks with your dive buddies and the locals.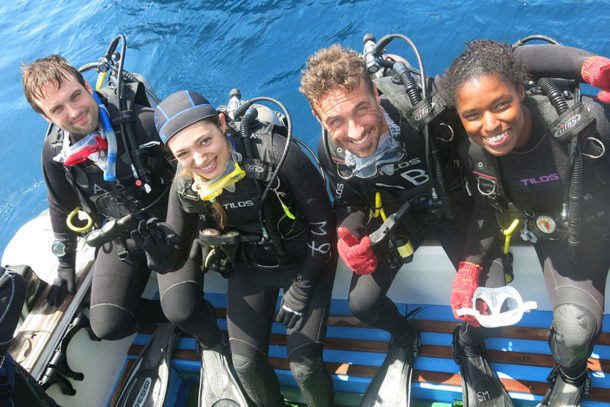 So let me tell you all about it!
I have been diving in Galapagos for about 10 years now and "Which is the best dive in Galapagos", is a question I get asked at least once a day, and my answer frustrates people!
I just depends! On the time of year, your experience, what you want see and where I have been diving most recently. You are right though, I do have a favourite, but you will need to keep reading to find out which one it is!
But first let me give you a general feel for all of the dive sites, and when it's best to dive them.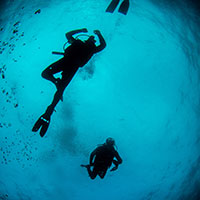 Due to the volcanic formation of the islands (and the still active volcanoes in the west), all the sites are volcanic and rocky in nature with a little coral here and there. There are also sandy channels that act a bit like a pelagic highway, so don't be put off if you dive in a see just sand to start with.
Temperature
The best time to dive in the Galapagos islands is any month of the year! We can see the marine life here all year round, you just need to decide how warm you like your wáter.
The warm season is from December to May due to the Panama current in the north picking up strength, with wáter temperaturas around 22C – 27C. The visibility is on average a bit better because the Humboldt currents slacks off and there is not so much nutrient in the wáter. The days are hot and humid with clear blue skies and during Feb – April I definitely recommend a hotel with AC as average temperaturas are 30-35C each day and night with humidity around 80% – 85%. January to March usually bring heavy rains, but it's normally only early morning or overnight, which makes the days very humid.
These months will give you a slightly higher possibility to see larger schools of hammerhead sharks, White tipped reef sharks and many marine turtles and schools of rays. We don't get Great White Sharks here, the water is too warm, but after your trip to Galapagos a Cape Town Safari might be on your list too.
The clouds start to appear in June and it's gets steadily cooler through July – November with average temperaturas being 18 – 24. The Humboldt current becomes stronger and brings colder wáter and welcome nutrients for the marine and bird life, giving an average wáter temperature of 18C-20C, but we do get some days at 16C, so if you feel the cold bring your layers and your hoods! Dry suits are definately the envy of divers using rental wetsuits during these days 😉
If you plan to do any walking on the island during this time I recommend a light weight rain jacket or poncho, as the misty rains "garua" are very frequent, especially in the highlands where the tortoise live.                                                                            Though the wáter is cold, the marine life is still abundant. During these months we welcome the Whale sharks in large numbers and the Mola Mola.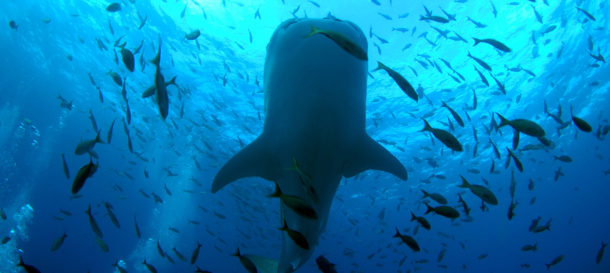 The sites
If we talk first about the daily tour dive sites, the hands down, most popular dive site here is Gordon Rocks – reached with a tour from the island Santa Cruz.
Why you ask? Well I am sure you already know the answer, Hammerhead sharks!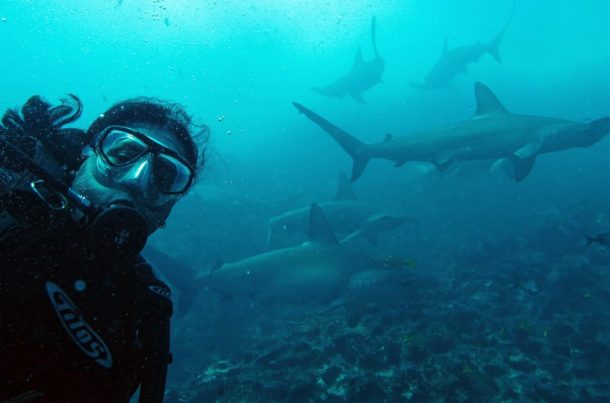 Gordon Rocks will give you the best possibility to dive with the amazing creatures. Sometimes we can see 1 or 2, and sometimes we can see 100. On average we see 10-30 sharks during our dives at Gordon Rocks. The sighting of the sharks themselves is exciting, but what makes it better is that the site is quite small, we dive inside an extinct cráter that the sharks swim thorugh, against the current. This cráter forces the sharks to swim quite close to where we are waiting to see them with baited breath.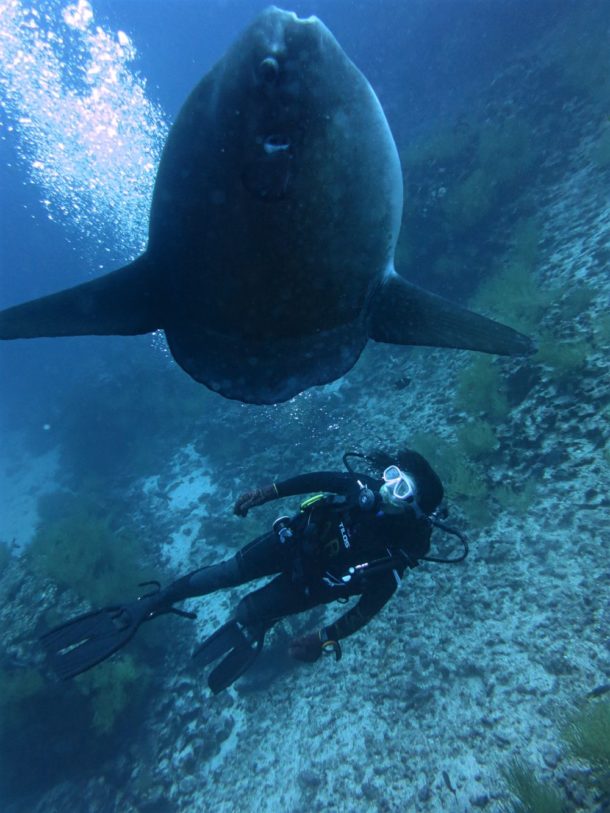 On a good day we will also see White Tipped reef sharks, Black tipped sharks, many Green sea turtles, Eagle rays, Golden rays and sometimes during the colder months, the elusive Mola Mola (Sun fish). If you have the experience (more then 25 dives and recent diving), Gordon Rocks is a must do in Galapagos – many people dive it 2 or 3 days!        If you don't have the experience, don't be disheartned – and please read our information about WHY you need to be an experienced diver at Gordon Rocks here
The next most popular site is North Seymour Canal or Point, which we can combine with Mosquera, as most dive centers will combine 1 dive at Seymour and 1 dive at Mosquera on the same day. Why is it the second most popular site here? You guessed it again… Hammerhead sharks! Some days we see more sharks at Seymour and Mosquera than we do at Gordon Rocks. Sometimes 1-2, sometimes 100's, but again, on average it's about 10-20 on each trip.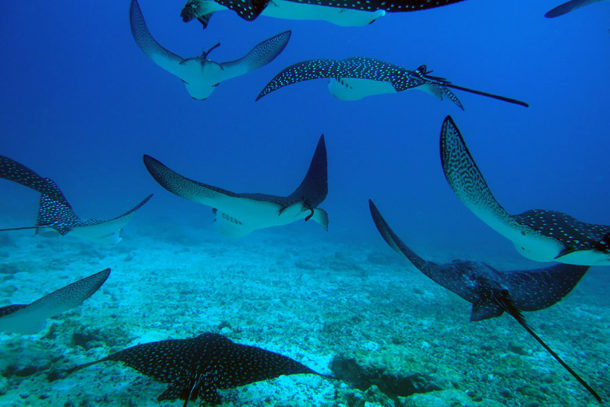 Seymour & Mosquera are also great sites to see schools of Eagle Rays, Golden Rays, Mobula rays and sometimes the Mantas. Galapagos Gardon Eels and a favorite sighting of mine, thousands can be seen waving in the currents collecting thier dinner.
And of course don't forget the Wite tipped reef sharks, Balck tipped sharks and sometimes the payful sea lions.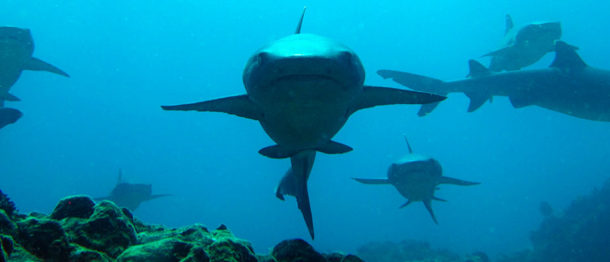 Seymour and Mosquera offer less current than Gordon Rocks , therefore a more relaxing dive, and a chance for divers of all levels to witness the breathtaking beauty of the Galapagos marine life.
If we stay in the north of Santa Cruz we will next visit Bealge Rocks and Daphne Minor. We combine these 2 site on one day trip, but other dive centres combine Seymour & Daphne. Starting with beautiful Beagle, personally I think is one of the prettier sites in our itinerary.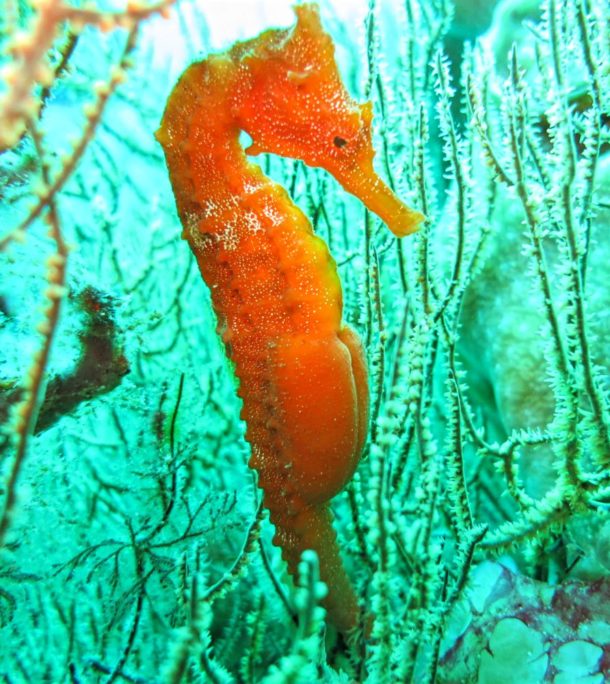 Galapagos does not offer a lot of coral due to the colder currents, but Beagle has a lovely Green Wall of Black coral (but it's Green!). Depending on how good your eyes are, you can find the Pacific Searhoreses hiding along that Wall, usually bright orange or a darker Brown. For those of you looking for something a little larger, Beagle is a favorite feeding spot for the majestic Manta Rays . We don't see huge amounts in Galapagos, but if they are around, you will spot them circling around Beagle, and normally Daphne Minor also. Daphne is a smaller rock, which makes it a Wall dive that attracts the Manta, sea lions, reef sharks and many times some hammerheads and different kinds of rays. During certain times of the year the schools of Black stripped Salema fish also provide an amazing experience, being engulfed in tiny fish is something you won't forget in a hurry.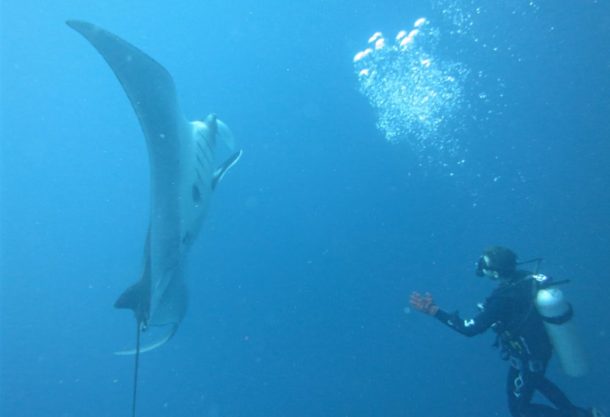 These 2 sites are not on our itinerary, but others do offer them, Cousins Rock and Bartolome, in the north of Santa Cruz also. These sites do offer the chance to see the island of Bartolome by sea. You can see Pinnacle Rock and the surrounding áreas. Cousins Rock is one of the better sites to see the Manta ray, and many times you can see sea lions, reef sharks, turtles and small schools of hammerhead sharks.
Heading back to the south of Santa Cruz, Floreana I think is my all time favorite. It just has a little bit of everything to offer, and the playful sea lions make it all the more special.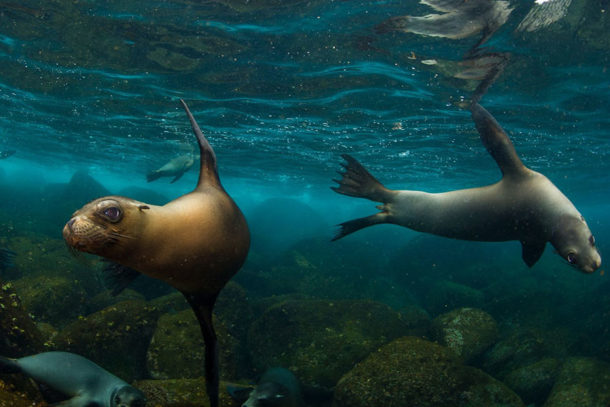 The dives around Floreana, Punta Cormorant & Islote Enderby are normally pretty relaxed, offer a but of color (black coral), and an abundance of marine life. Large schools of fish of all shapes and clours, rays, turtles, sharks. Normally we run across a few hammerheads on the trip down there, and in sometimes even bump into a Whale Shark passing through!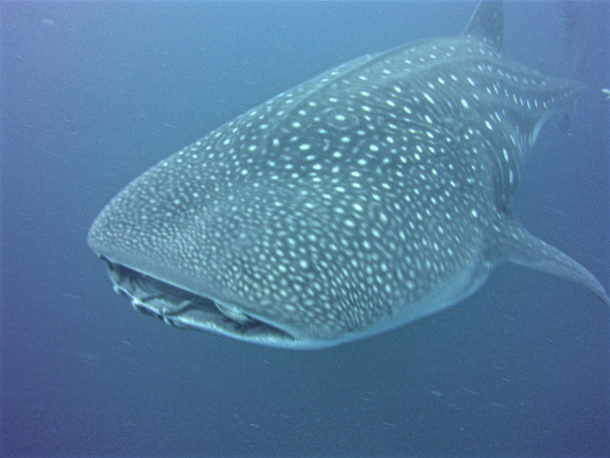 Moving further around to the east of Santa Cruz we come to our closest dive site at Isla Santa Fe. Diving at Santa Fe is a bit of a mixed bag. It has a reputation for being an easy dive site with not much to see, and certainly there are áreas around the island like that, but not where we dive!
The dive at the cave offers a shallow arch/cave that is normally full of fish and playful sea lions. The other site, depends on the experience of the divers. There is one spot the guides have found that can have string currents, and offers a great place to see many juvenille Galapagos sharks, and sometimes large schools of hammerheads. It just depends on the day. At worst Santa Fe will offer a relaxing day with many playful sea lions, at best, you will come home having witnessed more sharks than you can count on all of your fingers and toes and those of your buddy as well!
San Cristobal
Moving over to Isla San Cristobal and the daily dive trips over there. The dive centres in San Cristobal, for a reason even us in Santa Cruz are not 100% clear on, are allowed to combine their dive tours with land visits. So on these trips you will have 2 dives and a walk on the beach or visitor site with a naturalist guide. Due to this you will also most likely have a mixed diver/snorkel tour, though you do have separate guides.
Kicker Rock (Leon Dormido) is definitely on top of the list. This site is spectacular above wáter and only gets better as you dive in. It's one of the better sites (in my opinión, just after Gordon Rocks) to see the hammerhead sharks, Black tipped sharks and White tipped reef sharks. On my last dive over there we also encountered a large school of Black stripped Samela fish and a couple of turles and Eagle rays. This dive trip is also accompanied with a beach visit before or after the dive. The beach depends on the itinerary of the day, but you can visit Cerro Brujo, El Manglecito or Puerto Grande.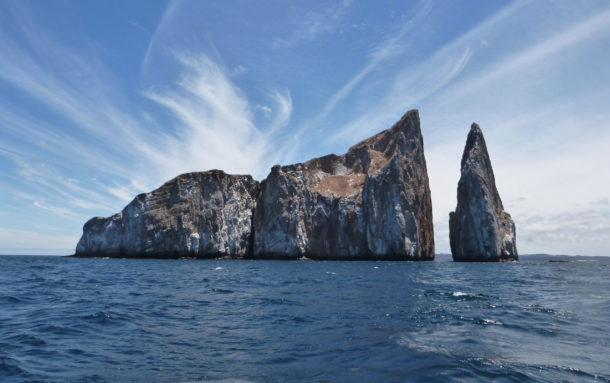 On the North Eastern point of San Cristobal you will find Punta Pitt. This dive trip is combined with a walk through the nesting sites of the Red footed boobies, so it's nice to get some diving and land experiences together. The dive sites offer smaller marine life, many colourful fish, reef sharks, sea lions, turtles, and of course, always the chance for the hammerheads.
Off the southern coast of San Cristobal is the famous island of Espanola, which again, combines the diving with a walk onto the island through the nesting sites of the Waved Albatross (the largest bird found in the archepeligo). During this trip you will only have time for 1 tank – 1 dive at Gardner Bay. This dive offer you a large array of marine life, from playful sea lions, colourful reef fish, to lazy turtles, and reef sharks.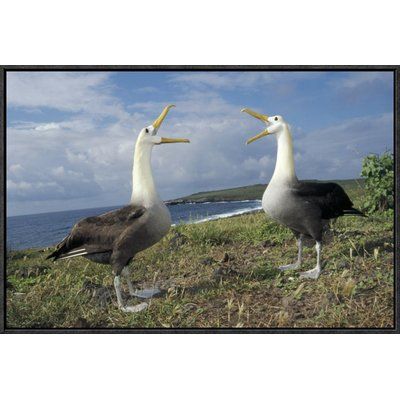 Back in the Bay at Puerto Baquarizo you can also take a shallow wreck dive to Caragua Wreck combined with Las Tijeretas. The wreck was a World War 1 German ship that was trasnporting godos into the bay. The wreck is approx 100 meters long and divers can explore the boiler room and the propellers. A lovely reef has grown over the ship, so many colourful fish can be spotted, as well as turtles, reef sharks and moray eels. The wreck isa round 13 meters, so you don't need to be an advanced diver to get there.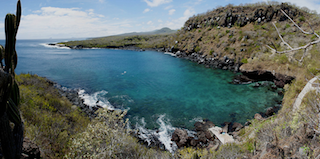 Las Tijeretas is a natural made lagoon with on the coast of San Cristobal.
The crystal clear waters are favorite playing áreas for the sea lions, and many Green sea turtles can be found chewing the algae off the shallow rocks. A very pleasant dive all round.
The great thing about taking the land based diving option is that you can be an experienced diver or a beginner, and we can taylor make your dive trips or package to suit you and get you diving in the sites that will give you the best possibility to see the most marine life whilst enjoying your diving experience.
If you are interested in a diving package in Galapagos please have look here. If you see something you like but would like to tweak it a little, just send us an email and we will do our best to make your Galapagos experience something you will never forget!
WHEN VISITING THESE SITES PLEASE REMEMBER THE NATIONAL PARK RULES
Keep a distance of 2 meters from wildlife, including your camera
Do not touch or feed the fauna
Do not remove elements of the ecosystem
Do not smoke, drink or make campfires in the national park
Walk on marked trails
Camp in designated areas with prior authorisation
Use authorised tour and fishing boats
No flash, professional photographers and drones need special permission
Do not introduce external elements into the ecosystem
Do not use motorised watercraft, submarines and air tourism