Things here are always interesting and May was no exception. Last month we saw a big change to the landscape, Leonardo DiCaprio stepped in and made an incredible contribution to the islands and a cheeky sea lion brought home an unexpected dinner.
A fallen icon
We all know that the Galapagos islands are world renowned for its scuba diving sites, but one site is known for its natural beauty above the ocean as well as under it – Darwin and the famous Darwin's Arch. Named after English biologist Charles Darwin, the arch is considered one of the best diving spots in the Pacific Ocean archipelago. This popular dive site has a natural rock arch less than a kilometre from the main area of Darwin Island and tourists aboard a boat last month witnessed its demise as the top of the structure eroded and fell into the ocean.
The news traveled fast amongst the diving community both here as well as internationally, with many initially believing it to be fake news. However it was soon verified by witnesses along with the Galapagos National Park and Ecuadorian new sources.
"Obviously all the people from the Galapagos felt nostalgic because it's something we're familiar with since childhood, and to know that it has changed was a bit of a shock," said Washington Tapia, director of conservation at Galapagos Conservancy. "However, from a scientific point of view, it's part of the natural process. The fall is surely due to exogenous processes such as weathering and erosion which are things that normally happen on our planet."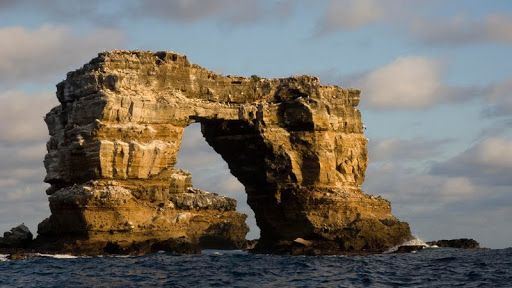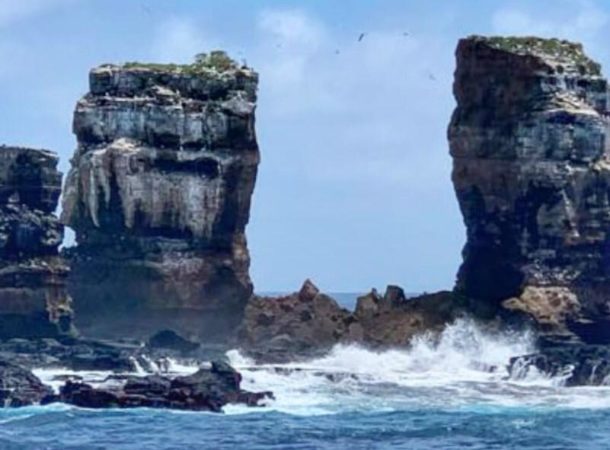 Before     Image: Pinterest                                         After        Image: Hector Barrera                                                                                                                                        
 All aboard a liveaboard
Whilst the landscape view has forever changed this iconic spot, the magical world underneath hasn't changed. Divers are wowed by the vast quantity and variety of life here and can continue to be so. In a study published in 2016, scientists from the National Geographic Society and Charles Darwin Research Station found that Darwin and Wolf in the Galapagos Islands is home to the world's largest shark biomass (the total mass of sharks in a given area) in the world.
Last month we helped fulfil this Darwin diving dream for one of our customers who we saw all the way through their Open Water training to join a liveaboard and dive at Darwin and Wolf! In her first visit with us she successfully obtained the Open Water Certificate experience and then went on to log more dives and build her experience. Whilst most liveaboards heading to Darwin and Wolf do prefer passengers to have at least 50 logged dives, there is some flexibility. As our keen customer had worked hard and dived more than 30 times all in the Galapagos Islands she was able to go on the trip of a lifetime!
If you want to come and see it for yourself, (because, quite frankly, why wouldn't you?!) take a look at our liveaboard options here. We have 5 different boats varying in class and size that will take you there in comfort. All liveaboards are on an itinerary of 8 days. On a typical day you can expect 4 day dives and drift along the mass of life such as tuna, huge schools of fish, hammerhead sharks, mola molas, sea lions and, the majestic whale sharks. And if you've been lucky enough to visit Darwin and Wolf before and take a photo with the famous arch in the background, with this new change of scene now you have a reason to return right?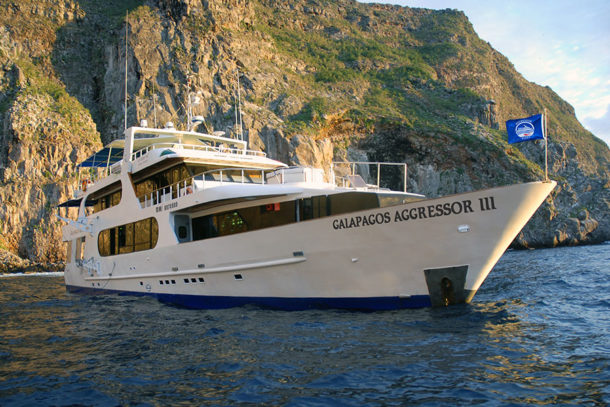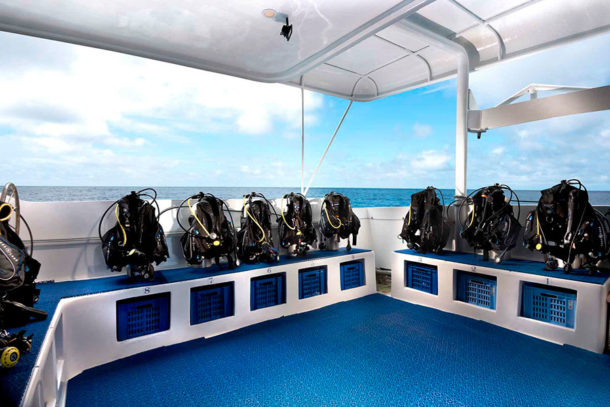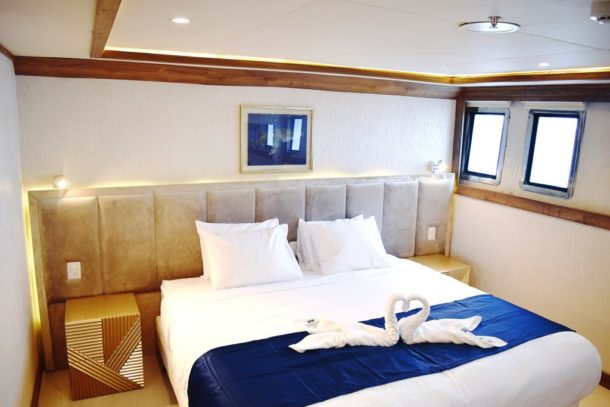 Galapagos Aggressor III       Galapagos Master                  Tiburon Explorer                                                                                
An Unexpected Predator
Once again the Galapagos wildlife has entertained and amazed us so we're able to bring you a fun video taken on Santa Cruz pier just steps away from our dive shop. This time a sea lion takes the spotlight. Whilst enjoying a popular evening stroll to the muelle (pier), where sea lions snooze on benches and baby sharks are illuminated by the underwater lights, residents saw a naughty sea lion walking up the jetty with a shark in its mouth! This is not common behavior and it's actions surprised all bystanders. This young pup jumped out of the water with it's catch and managed to keep hold of it even when passing a curious, and hungry, pelican. Making its way up to the main pier, the sea lion didn't seem to have the intention of eating the black tip shark, after all, these marine mammals mainly feed on small fish, sardines, squid and other mollusks. It is expected that he caught him after winning a playful chase and wanted to bring his prize "home" onto the pier. However once he made it there, all interest seemed to be lost and the sea lion let it go. Luckily, one spectator stepped in and took action. He was able to carefully retrieve the shark and place it back in the ocean where it swam away unharmed. The 'after' photo shows the sea lion with his tongue out looking like quite the cheeky troublemaker!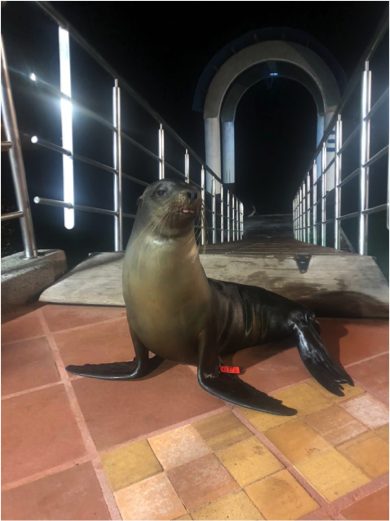 @Dianaona94
Re:Wild the Galapagos
Back in March of this year the famous actor, film producer and environmentalist, Leonardo Dicaprio visited Santa Cruz island to meet with officials and address environmental, economical and COVID-19 issues. In 1998, Leonardo DiCaprio established his foundation, The Leonardo DiCaprio Foundation, with the mission of protecting the world's last wild places and has become a well known face in the conservation world. Following the meeting here, last month the actor announced he has donated a massive $43 million to the restoration of degraded habitats in the Galapagos islands in an initiative in partnership with his recently founded Re:wild conservation charity. With the focus of restoring local ecosystems, the actor launched Re:Wild that states "We don't need to reinvent the planet. We just need to rewild it". That is exactly what he wants to do with the galapagos, 'rewild' it! This donation will fund a variety of projects including the restoration of Floreana Island that is home to over 50 endangered species, plus a captive breeding program and activities to prevent the extinction of the pink iguana "working with partners to help them stage a comeback."
Written by Charli Pocock